Tours in Alishan
Alishan area is an excellent Taiwan tourist destination all-year-round. Enriched by abundant natural resources, visitors may find Alishan filled with picturesque sceneries during each season. Colorful cherry blossoms can be found in springtime, sparkling fireflies are available in summer and wintertime, while romantic maples can be seen in wintertime. Find out the different looks of Alishan now!
Alishan Cherry Blossoms
Alishan Cherry Blossoms – around March to April
Alishan cherry blossoms are one of the most long-awaited annual events of Alishan. Every year from March through April, a variety of cherry blossoms will showcase their beauty in a dazzling, picturesque display that wows both local and international visitors.
There are more than 19,000 cherry trees in the Alishan Forest Recreation Area. (More Alishan Cherry Blossoms)
Alishan Fireflies
Alishan Fireflies – Summer Fireflies: April to June/ Winter Fireflies: December to January
Summer Fireflies (April to June)
Alishan owns one-third of the amount of fireflies in Taiwan. The firefly species may found in Alishan area, including precious Luciola cerata, Curtos sauteri Olivier, Luciola anceyi, and Luciola satoi Jeng and Yang.( More Alishan Fireflies)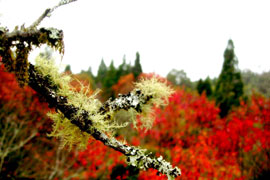 Alishan Maples
Alishan area features different zones include tropical, temperate and cold zone that led to picturesque sceneries of plants and rare ecosystems such as Formosan Macaque and Mikado Pheasants. The romantic Alishan maples are best-viewed from November through January and can be found in the areas of Tashan (Mt. Ta), Alishan Highway, ( More Alishan Maples )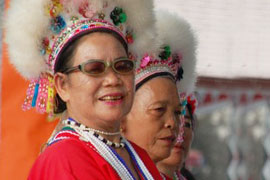 Alishan Aboriginal Culture
Alishan Aboriginal Culture – Tsou Tribe
Alishan area was originally inhabited by the Tsou tribe of the Taiwan aborigines. The Tsou tribe has the least population among the 9 main Taiwan aborigines. The famous song, "Gau Shan Ching" describes the Alishan aborigines as powerful men and beautiful women as well as their talented skills and aesthetic works such as bamboo braiding, clothing, stone carvings, weaving, and wood carvings. In addition, many visitors visit Alishan to join the Tsou Harvest Festival for an extraordinary, unforgettable Alishan travel.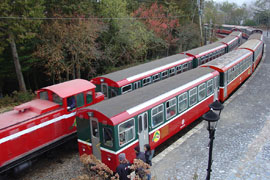 Alishan Forest Railway- Zhushan & Sacred Tree Routes
Today, with the reopening of Alishan Forest Railway- Sacred Tree, Zhaoping and Zhushan routes, travelers may now once again enjoy train rides from the Alishan Railway Station to Zhaoping Station for fabulous cherry blossom sceneries, Zhushan Station for stunning sunrise sceneries as well as visit the Sacred Tree Station for fabulous sceneries surrounded by romantic mist for a memorable Alishan travel!
Sacred Tree Route
Train runs every 15minutes from 09:30 through 16:30. (Travel time about 10 minutes)
Zhaoping Route
Train runs every 15 minutes from 09:15 through 16:15. (Travel time about 10 minutes)
Zhushan Route
Train runs once a day at 06:00. (Travel time about 30 minutes)
Time will be adjusted according to the estimated sunrise time of the day (Visitors may contact the Alishan Train Station at +886-5-267-9833 for more information).
Note:
Train schedule may be adjusted slightly without advance notices.