Alishan Specials
Alishan High-Mountain Tea
Alishan area is not only recognized for the unparalleled nature beauties and enriched aboriginal cultures, but also the perfect venue for high mountain tea plantation. The soil composition, moist climate, and the temperature differential of day and night make Alishan tea the most famous among all Taiwan teas. In accordance to the geographic advantage, the Alishan tea farms are irrigated with pure mountain spring water, hand-picked, air dried and delicately roasted in a unique process enhancing a sweet and mild taste. Travelers may find Alishan tea products at the souvenir shops in the Alishan Forest Recreation Area.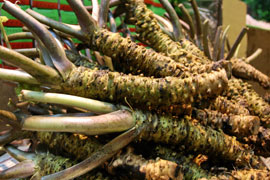 Alishan Wasabi (Green Mustard Root)
Alishan area is the perfect place for growing wasabi; green mustard roots. Having a moist climate, Alishan produces high quality wasabi that are made into different products include wasabi peanuts and wasabi sauce. Alishan area is one of the few places in Taiwan that fresh wasabi can be purchased in Taiwan. These fresh wasabi roots have a faint green color, light scented, mild but still with a kick!

Fenchihu Lunchbox
Fenchihu was once the refuel stop for the old Alishan trains and is now a popular Taiwan destination for travelers to take a rest and appreciate the wonderful surroundings before reaching the Alishan Forest Recreation Area. Other than exploring Fenchihu, what most of the travelers would do is to enjoy traditional lunchboxes that contain rice, pork chop, chicken leg, soy sauce-marinated egg, vegetables, as well as purchase the special lunchboxes made from different materials such as bamboo, iron, or wood as mementos.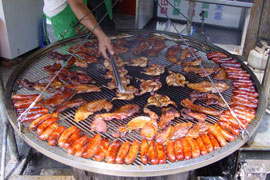 Alishan High Mountain & Aboriginal Delicacies
There are a number of restaurants in Alishan Forest Recreation Area and Fenchihu area decorated in Chinese style. These restaurants serve all kinds of authentic high mountain and traditional aboriginal delicacies that travelers can hardly find elsewhere. Delicacies made with wasabi, steamed high mountain fish, high mountain vegetables, and wild boar barbecue are dishes travelers may want to give it a try during their Alishan travel.
Alishan Hotels
Atunas Holiday Country is a wonderful Chiayi resort close to Zhengwen Reservor (Tseng Wen …
Fm TWD3,360