Alishan Cherry Blossom Season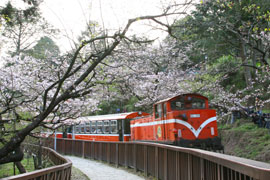 Alishan Cherry Blossoms – around March to April
Alishan cherry blossoms are one of the most long-awaited annual events of Alishan. Every year from March through April, a variety of cherry blossoms will showcase their beauty in a dazzling, picturesque display that wows both local and international visitors.
There are more than 19,000 cherry trees in the Alishan Forest Recreation Area. Out of 19,000 beautiful cherry trees, about 18,000 of them are white blossomed Yoshino cherry trees which makes Alishan the only and the largest area of Yoshin cherry tree coverage in Taiwan. The best spots to view fascinating cherry blossoms are the Alishan Police Station, Alishan House, Alishan Work Station and Zhaoping Park.
The following are 2 recommended routes for your Alishan cherry blossom tour.

Route no. 1
Alishan House--> Meiyuan --> Alishan Police Station --> Zushan trailhead
The route is about 600 meters with wonderful cherry blossoms on both sides of the path offering unforgettable sceneries.

Route no. 2
Zhaoping Railway Station--> Zhaoping Park--> Alishan Sisters Ponds --> Sho Zheng Temple -->Zhiyun Temple--> Alishan Museum--> Tree Pagoda --> Shanglin Middle School --> Alishan House
The total distance of this route is about 2600 meters.