Please click on the map to view other hot spring in the region
Hotels nearby Taiwan Hot Springs
TWD 3,000+
TWD 7,840+
Popular Taiwan Hot Springs
Beitou Hot Spring Tour- Taipei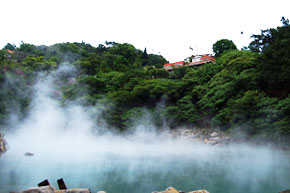 Taiwan's hot spring industry was established by the Japanese during the Japanese colonial period. Since Beitou is an early developed area, most of its hot spring hotels are in Japanese style. Beitou Hot Springs are situated in Beitou District, Taipei City; it is the most popular hot spring area among Taipei. The area features public hot spring pools, natural attractions, and a great number of hot spring resorts and hotels. The spring source is from Liuhuanggu (Sulfur Valley), and the three general hot spring types are White Sulfur Springs (copperas springs), Blue Sulfur Springs (sulfate springs), and Iron Sulfur Springs. Most of the visitors come to Beitou for enjoying hot springs and appreciating historical Japanese architectures.
Directions:
Visitors may take MRT Danshui line (Red line) to MRT Xinbeitou Station.

Yangmingshan Hot Spring Tour- Taipei
Yangmingshan is situated in Datunshan Volcano Area. It features beautiful and natural sceneries, hot springs, farms, and delicious cuisines. The Yangmingshan Hot Spring covers four sections, including Huogengziping, Lengshueikeng (Cold Water Depression), Macao, and Yangmingshan National Park. Each of the area has distinctive features, health effects, and mineral contents of water. However, most of the visitors choose to take hot spring baths in Macao. Since there are many hot spring hotels and resorts nearby, visitors may spend a day or two there to enjoy the hot springs.
Directions:
Visitors may take bus No. 230, 108, or Royal Bus "Taipei to Yangmingshan" line.
Lengshuikeng (Cold Water Pit) Hot Spring Tour - Taipei
Located on the east side of Qixingshan (Mt Seven Star), between the Qingtiangang plateau and Menghuan Lake (Dream Lake), Lengshuikeng (Cold Water Pit) was formed by volcanic lava flowing down from the mountain, forming a barrier lake. The lake was eventually drained leaving the landscape we see today; Lengshuikeng contains Taiwan's sole bed of precipitated sulfur. Hot spring here belong to the neutral carbon type of spring with a pH of around 6.5 and a temperature around 40C.
Directions:
From MRT Jiantan Station or Shilin Station, transfer to bus Red 5 or 260 and get off at Yangmingshan stop, then take bus 108 or S5 to Lengshuikeng.
From Taipei Main Station, then take Royal Bus directly to Lengshuikeng Visitor Center.


Wulai Hot Spring Tour- Taipei
Wulai Hot Spring is situated in the river valley of Wulai Township. It is the most south township among Taipei. The name of the township derives from the Atayal language meaning "hot and poisonous". Since there are steams in the hot spring area, the aborigine thought the water was poisoned until the Japanese colonial period. The quality of its alkaline sodium bicarbonate springs is clear, odorless, and drinkable. The water has earned a name called "beauty spring" because it is believed to have beauty effects on the skin. The name has attracted numerous visitors to Wulai for enjoying hot springs. Besides Wulai hot springs, Wulai also features cherry blossom, waterfalls, and natural sceneries. It would be wonderful to appreciate beautiful natural sceneries while indulging in a comfortable hot bath.
Directions:
Visitors may take MRT to Xindian Station (green line) and transfer to New Taipei Bus No. 849 to Wulai Station.
Jinshan Hot Spring Tour- Taipei
Jinshan Hot Spring is the northern-most Taiwan hot spring situated in New Taipei City (Taipei County). With the location on Datun volcanic belt, Jinshan Hot Spring features various hot springs including neutral carbonate spring, acidic sulfur spring, alkaline sulfur spring, etc. Jinshan Hot Spring covers three sections, including Jinbaoli Hot Spring, Huangguan Hot Spring and Chiatou Hot Spring. Each of the hot springs is believed to have distinctive health effects and special water components. Moreover, do not miss the mouth-watering local cuisines such as the famous Jinshan stewed duck, and visit interesting tourist spots such as Jinshan Coastal Plant Life Park, Juming Museum, Shihtoushan Park (Stone Park), Jinshan Historical Street, Cihu Temple and many others. Indulge yourself and your friends/families with a relaxing hot bath experience together with tasty cuisines and beautiful natural sceneries.
Directions:
Visitors may travel by the following buses to Jinshan Hot Spring.
1.HuangJia Transportation (Jinshan-Yangmingshan-Taipei)
2.Keelung Transportation (Through expressway: Keelung-Jinshan, Keelung-Danshui)
3.GuoGuang Transportation (Jinshang Youth Activity Center-Taipei, Fagushan-Jinshan)
4.Danshui Transportation (Danshui-Jinshan)