Chinese New Year
(Lunar New Year)
Date: 2022/1/29-2022/2/06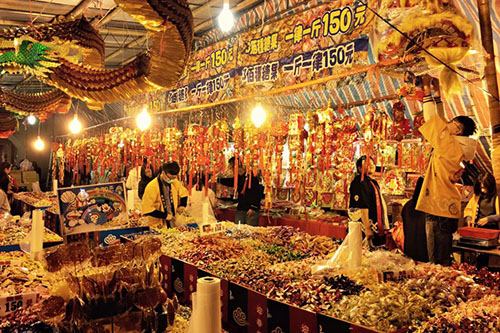 Chinese New Year is the most important festival celebrated by the ethnic Chinese. Also known as the Spring Festival, Chinese Lunar New Year and Lunar New Year, the Chinese New Year is based on the Chinese lunar calendar, begins on the first day of the first lunar month, and the Lantern Festival celebrated on the 15th day of the first month marks the grand finale of the Chinese New Year celebrations. On the Chinese New Year's Eve, family members would gather to share a sumptuous family dinner, and manage to stay up all night to welcome the New year as it is believed that parents would live a longer life for doing this. The first day of the Chinese New Year, people would dress in red (symbolizing luckiness and propitious) to visit relatives and friends, as well as wish everyone a prosperous year. In the past, children would have to kneel down and show respect to grandparents in receiving red envelopes. However, this tradition has gradually disappeared. Today, children receive red envelopes when greeting elders with auspicious words.
There are various legends and traditions that ethnic Chinese follow during the period of Lunar New Year celebrations. Every household will do a big house clean-up a few days before Chinese New Year for the belief that cleaning, sweeping and trashing during the Chinese New Year will sweep out the good fortune and wealth. Also, the prevention of breaking dishes during the new year time is to avoid serious problems between family members in the year.
In terms of legend, the most well-known Chinese New Year legend tells story about "Nian"- the cruel and brutal beast that attacks and cannibalizes people on the Chinese New Year's Eve. As Nian is afraid of red color, loud noises and fire flame, people would paste red-paper spring couplets on doors and set off firecrackers to make loud noises in keeping the beast away. Today, "spring couplets" in blessing words and propitious phrases such as wealth, longevity, auspiciousness, and spring, can be seen at most of the households in Taiwan, while firecrackers are not set as much as old days due to environmental and safety issues.
The Chinese New Year is a jubilant occasion for friends and families to share a good time together. People wear new clothing and children receive red envelopes ("hong bao" in Mandarin) with cash inside. Come visit Taiwan for the wide array of colorful Chinese New Year festivities and celebrations, including Yanshui Beehive Rockets Festival in Tainan, Pingxi Sky Lantern Festival in New Taipei City, and Bombing Lord Handan (with firecrackers) in Taitung.
Check out more about Chinese New Year Hotel Booking and Travel Guide.
Chinese New Year Specials:
Rice Cake (Fa Gao): for luck and prosperities.
Fish: the pronunciation of fish in mandarin means people will have surplus and remaining.
Chicken, ducks, and pigs: welcome the New Year with a big feast.
Sweet delicacies: for a sweet and prosperous life.
Noodles: uncut thin noodles represent longevity and long life.
Auspicious words to greet your families, friends and relatives during Chinese New Year:
恭喜發財 gong xi fa chai; Congratulations and prosperities
新年快樂 Xin nian kuai le; Happy New Year
恭賀新喜 Gong he xin xi; Happy New Year
萬事如意 Wan shi ru yi; Blissfulness and prosperities
more