Penghu Firework Festival
The Penghu Ocean Fireworks Festival has become one of the grand events of the summer season, a beautiful and magnificent night scene for visitors. The 2017 Penghu Ocean Fireworks Festival begins from April 20th to June 22nd. The firework shows are scheduled to be on display every Monday and Thursday at 9:00PM to 9:15PM during the festival period. Besides the spectacular fireworks show, the organizers invited well-known Taiwan artists and performing groups to entertain. There are also various shows, activities and stage performances for the public to participate in.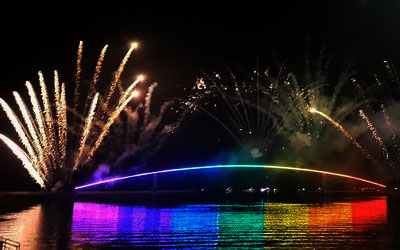 ◎ Date: 2017/4/20(Thu)-6/22(Thu), every Monday and Thursday
(Saturday: 4/29 at Wangan, 5/6 at Jibei, and 5/13 at Guanyin Pavilion Leisure Park ◎ Location: Magong Guanyin Pavilion Leisure Park, Wangan Green Turtle Tourism and
Conservation Center, Qimei, Baisha North Sea Visitor Center, Jibei Island ◎ Hours: Monday and Thursday, 20:00-21:15 ◎ Firework: Monday and Thursday, 21:00-21:15/ Wangan, Qimei, and Jibei 19:30 ◎ Opening Date: 2016/4/20(Thu) ◎ Opening Hour: 19:30-21:20 ◎ Opening Firework: 21:00-21:20
Hotel Recommendation
Hotel Ever Spring Penghu

Hotel Ever Spring Penghu

Hotel Ever Spring Penghu

Hotel Ever Spring Penghu
Hotel Ever Spring Penghu is the first ocean theme hotel in Penghu. The hotel features 85 guests rooms with rich sea atmosphere including standard double rooms and quad rooms, all equipped with comfortable bed, cozy sofa, hair dryer, mini refrigerator, cabled TV, telephone, broadband internet access, coffee & tea and attached bathroom to ensure a delightful stay. The cozy accommodation with vast sea view and friendly services in the hotel offers a pleasant travel experience in Penghu.
TWD 1,400+