Penghu Renowned Dish
Penghu is surrounded by sea. Aside from fresh seafood, there are many must try cuisines and restaurants. TravelKing has selected a few favorites for you to explore Penghu with your palate.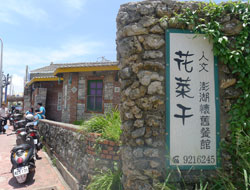 Huacaigan Restaurant(花菜干傳統飲食堂)
Huacaigan means dried cauliflower in Chinese. It is a local tradition dish which is made from preserved cauliflower, due to the insufficient vegetable during the winter. Dried cauliflower dish fried with meat and other ingredients became Penghu exclusive dish. The restaurant specialized in local cuisine. The owner built the restaurant in the old fashion style and decorated the place with old time furniture. Even the plates and wares are neatly selected to fit the theme of post Japanese colonial period. It is home cooking style restaurant where you can taste the traditional Penghu.
Recommend:squid scrambled egg, shiju pork soup, dried cauliflower, pickle friend pork, pickle and fish.
Address:No.4-2, Dongwen, Makong, Penghu (澎湖縣馬公市東文里4之2號)
Hours:AM11:00~PM09:00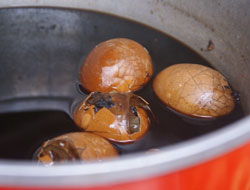 Qianyi Tang Diet Egg(乾益堂藥膳蛋)
Located in Zhongyang Street, Makong City, Qianyi Tang Diet Egg specialized in herbal braised egg. The shop has been around for over 90 years, the recipe uses herbal ingredients to braise the most unique flavored eggs.
Address:No.42, Zhongyang St., Makong, Penghu (澎湖縣馬公市中央街42號)
Tel:06-927-2489
Hours:09:00~17:00
Changjin Restaurant(長進餐廳)
Changjin started out as a small local bistro. Over 30 years of great reputation, it is now a fine seafood restaurant. Television shows and magazines often introduce Changjin Restaurant as one of the finest seafood restaurant in Penghu. The caramel pork chops and crab congee is the chef's specials.
Recommend:Caramel chicken, caramel pork chop, crab congee, and other seafood dish.
Address:No.9, Minzhu Rd., Makong, Penghu (澎湖縣馬公市民族路9號)
Tel:06-927-1686
Hours:11:00~14:00, 17:00~21:00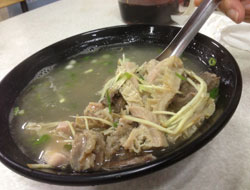 Beixinchao Beef Offal Soup(北新橋牛雜湯)
The owner moved to Penghu from Beijing and opened this place in 1966. It is a traditional breakfast dish in China. Beef offal soup and dumplings, the traditional flavors is so popular the seats are all occupied from the moment it opens until closing hour.
Recommend:Beef offal soup, pork dumplings, pot stickers, pork buns
Address:No.34, Wenkang St., Makong, Penghu (澎湖縣馬公市文康街34號)
Tel:06-927-0549
Hours:06:00~12:00(until sold out)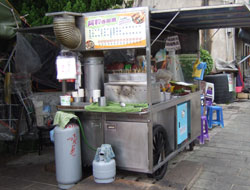 Abao Sausage(阿豹香腸)
All kinds of homemade sausages like rice sausages, pork sausages, Abao offers great small bites with kantoni soup.
Recommend:Sausages, rice sausage, Kantoni, and BBQ pork
Address:Near Tienhu Temple
Hours:15:00~16:00, 20:00~21:00, until sold out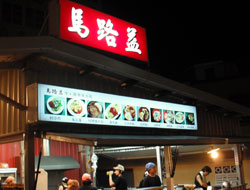 Maluyi Pork Chop Rice(馬路益)
A local vendor which survived 20 years, Maluyi is the only vendor behind Beijia Temple which finally opens up a place from street stall. It's a place where the locals search for the taste from the past.
Recommend: Stinky tofu, Taiwanese kimchi, pork chop rice, fried oyster
Address:No.5, lane 7, Zhongzheng Rd., Makong, Penghu (澎湖縣馬公市中正路7巷5號)
Tel:06-926-2996
Hours:16:00~24:00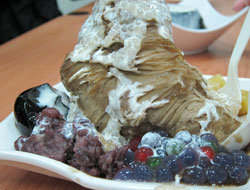 Yuguan Grass Jelly(玉冠嫩仙草)
Grass jelly or mesona is a traditional Chinese sweet dessert. Served in shaved ice or sweet soup, Yuguan Grass Jelly uses the local ingredients has been the local favorites during the summer for a long time.
Address:No.32, Mingfu Rd., Makong, Penghu (澎湖縣馬公市民福路32號)
Tel:06-926-0356
Hours:10:30~22:30(until sold out)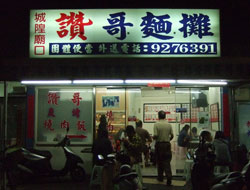 Zhange Noodles(讚哥麵攤)
Zhange Noodles is not known for the noodles but for the BBQ pork rice. Even during the summer, the BBQ pork rice is still very popular among the locals and the tourists. The dish actually kept the vendor going from going out of business when they only served noodles in the past.
Recommend:Chicken Rice, Double Mixed Rice, BBQ Pork Rice, Seafood noodle
Address:No.20, Guanming Rd., Makong, Penghu (澎湖縣馬公市光明路20號)
Tel:06-927-6391
Hours:10:00~22:00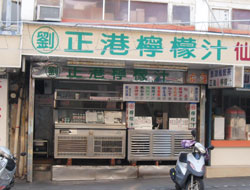 Zhenggan Lemonade(正港檸檬汁)
Fresh squeezed lemon juice instantly sweetened with sugar in perfect proportion. Even the people who usually cannot endure the sour taste will enjoy cool and tasty lemonade here.
Recommend:Lemonade, cactus juice, passion fruit juice, fongru tea
Address:No.59, Zhongzhen Rd., Makong, Penghu (澎湖縣馬公市中正路59號)
Tel:06-927-0854
Hours:Noon~23:00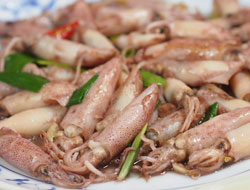 Laifu Seafood Restaurant(來福海鮮餐廳)
The owner started out as fisherman then he opens a seafood restaurant due to his convenient source of fresh seafood. The seafood here is guarantee fresh and high quality. Thus Laifu Seafood Restaurant stood out from all other seafood restaurant in Penghu due to the good reputation and reasonable price.
Recommend:Seafood Cusine
Address:No.43, Xinchun Rd., Makong, Penghu (澎湖縣馬公市新村路43號)
Tel:06-926-2249
Hours:11:00~21:00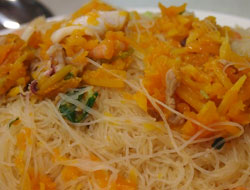 Ching-Shin Seafood(清心飲食店)
Located in Xiyu, a well reserved fisherman village, Ching-Shin Seafood offers the most natural and fresh caught seafood. It is a Japanese style restaurant, visited and admired by the late former president of Taiwan Chiang Ching-kuo.
Recommend:Seafood Cuisine and local dish
Address:No.77-2, ChitungVillage, Xiyu, Penghu (澎湖縣西嶼鄉池東村77-2號)
Tel:06-998-1128、06-998-1579
Hours:10:00~19:30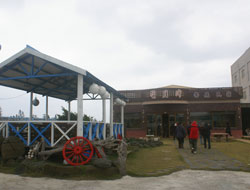 Star Moon Bay Pension(星月灣餐廳民宿)
There is a reason Star Moon Bay Pension is recommended every time whenever you wish to visit Northern Penghu. The owner was once a chef in a hotel, restaurants in Taiwan Main Island. After he chose to return to Penghu, he opens a hostel and restaurant where he grew his own vegetables, spices and fruits in the back yard. It offers more selection other than just seafood on the menu.
Address:No.132, Dazhi Village, Xiyu, Penghu (澎湖縣西嶼鄉大池村132號)
Tel:06-998-3455
Hours:11:00~14:00、16:30~21:00
Ahong Braised Whelks(阿虹燒酒螺)
Ahong is known for the cactus and whelks. It is a summer time favorite dessert and snack.
Recommend:Taro cactus ice, braised whelks
Address:No.11-5, Xiaomen Village, Xiyu, Penghu (澎湖縣西嶼鄉小門村11-5號)
Tel:06-998-2182
Hours:10:00 ~17:00
Erkan Historical Village(二崁聚落傳統美食)
Almond tea is highly recommended while visiting Erkan Historical Village. The finest almonds are selected and grinded, the natural benefit of almond is good for your skin and lung.
Recommend: Almond tea, peanut rice pudding
Address:No.20, Erkan Village, Xiyu, Penghu (澎湖縣西嶼鄉二崁村20號)
Tel:(06)998-2776)
Hours:08:00~17:00
Hotel Recommendation
No.6, Zhongzheng Rd., Magong City, Penghu County, Taiwan
Hotel Ever Spring Penghu is a cozy Penghu hotel in central Magong City, close to all popular attractions in Penghu.
TWD 1,600+