Tours in Bangkok
Bangkok area is an excellent Taiwan tourist destination all-year-round. Enriched by abundant natural resources, visitors may find Bangkok filled with picturesque sceneries during each season. Colorful cherry blossoms can be found in springtime, sparkling fireflies are available in summer and wintertime, while romantic maples can be seen in wintertime. Find out the different looks of Bangkok now!
Shopping in Bangkok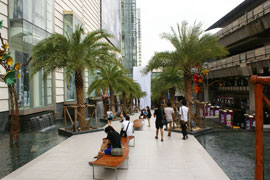 Street Shopping- Chatuchak & Pratunam
As there are endless shopping choices in Bangkok, maybe you should start with areas with a good shopping reputation and great bargains. Pratunam Market and Chatuchak Weekend Market are 2 popular shopping areas in Bangkok for wholesale shopping experience. If you want to experience something a little more adventurous, make your way for the huge weekend market at Chatuchak on the outskirts of town, ... (More shopping in Bangkok)
Tiffany Cabaret Show (Evening Show)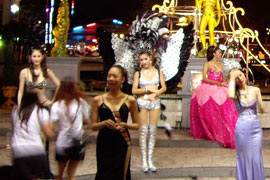 Tiffany Cabaret Show (Ladyboy Show) in Thailand has always been a popular night-time entertainment between international travelers. These world-class artistic ladyboy performers always capture audiences with their charm, unique creativity and female impersonations. The City of Angels-Bangkok- Bangkok is the home to some of the most revered ladyboy shows in the world, the ladyboys tends to look a lot better from other places in the world, except they have ample bosoms and killer cheek bones. Most of them have yet to become a "woman". Mambo Cabaret and Calypso Cabaret are two places in Bangkok for this world-famous show of ladyboys. Ticket price starts from 500 baht, and shows usually begin around 19:00. Tiffany Shows can also be seen in Pattaya and Phuket if you missed the chance to enjoy during your days in Bangkok.

Floating Market Tour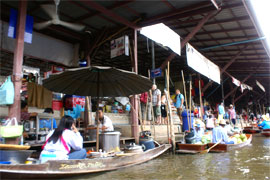 A trip to the famous floating markets in Thailand has always been a must for one's Thailand travel. Floating markets offer fabulous cultural experiences as well as a glimpse in depth into local way of living. There are countless floating markets throughout the country, many can be reached within a couple of hours from Bangkok. Located about 2 hours away southwest of Bangkok, Damnoen Saduak is the largest and most popular among all floating markets, where attracts hundreds of international visitors each day, while Tha Kha and Ampawa are two smaller floating markets that offer more of local flavors. Visitors may take buses bound for Damnoen Saduak at the Southern Bus Terminal at Pinklao-Nakhonchaisi Rd. to Damnoen Saduak Floating Market. Bus runs every 40 minutes from 06:00 onwards. For ones looking forward for a round trip to see all of the three most popular floating markets: Ampawa, Damnoen Saduak and Tha Kha, you may hire a boat for the price of 300-350 baht per hour. The fare of the boat ride should be settled before starting off.  

Dinner Cruise Tours
The spectacular Chao Phraya River is a wonder to behold during the evening of a night in Bangkok. Dine and wine on cruise while finding out how much the city of Bangkok dazzles at night. Shimmering temples, glistening skyscrapers, and a rich stream of passing nocturnal traffic greets you from every direction, you will not only get a true sense of mouth-watering Thai food on board, but also a real sensations of the evocative Chao Phraya River. A dinner cruise tour along the Chao Phraya River is for you to indulge in a world of tropical breeze and romantic ambience, making your Bangkok travel an unforgettable occasion. Bangkok Grand Pearl Cruise , Bangkok Manohra Dinner Cruise, Bangkok Loy Nava Cruise, Bangkok Chao Phraya Dinner Cruise, and Bangkok Shangri-la Horizon Cruise are some of the popular dinner cruises in Bangkok.
Bangkok News & Events
Bangkok Attractions