Bangkok Specials
Bangkok is the perfect heaven for a sensational culinary experience that will delight your taste buds and linger you on. Experience renowned Thai delicacies with its blend of spicy, sour, sweet, and salty, and complete eating options of international delicacies, day or night. Here in Bangkok, you are about to go through a mesmerizing culinary journey from great-value-for money food courts, street foods, riverside eateries, traditional Thai style dining in antique teak house, dinner cruises, trendy restaurants, to food markets. Bangkok is where you can count on finding any type of authentic delights you have in mind.
Tom Yum Soup (Hot & Sour Soup)
Tom Yum Soup (Hot & Sour Soup) is an internationally-renowned Thai dish, which is also the top 1 famous Thai dish loved by foreigners. Tom Yum Soup is usually made with prawns (Tom Yum Kung), chicken (Tom Yum Kai), fish (Tom Yum Pla) or mixed seafood (Tom Yum Talay), with a bold, refreshing blend of fragrant lemongrass, chili, galangal, lime leaves, shallots, lime juice and fish sauce shapes this classic soup, giving it a fascinating herbal kick of quintessential Thai aroma.

Pad Thai (Thai Style Stir Fried Noodles)
Pad Thai (Thai Style Stir Fried Noodles) is a signature dish of Thai food, and also second famous dish to Tom Yum Kung. Pad Thai is another must-have menu on one's Thailand travel. This Thai dish is a mix of stir-fried rice noodles with eggs, fish sauce tamarind juice, red chili pepper, and a combination of bean sprouts, shrimp, chick, mixed seafood, and tofu topped served with crushed peanuts and cilantro. Pad Thai is usually served with a slice of lime. Pad Thai can be found in most of Thai restaurants and street vendors along Khao San Road, Sukhumvit Road, Suan Lum Night Buzzard and many other areas in Bangkok. The flavour of Pad Thai varies in different regions such as Pad Thai has a heavier taste and maybe topped with red oil in the West.

Som Tum (Spicy Raw Papaya Salad)
Originated from the Northeast state of Isaan, Som Tum (Spicy Raw Papaya Salad) is another typical Thai dish that is widely known internationally. Som Tum is a spicy salad made from shredded raw papaya with a blend of four main tastes of Thai cuisines: sour lime, hot chili, salty fish sauce, sweet palm sugar, green beans, and cherry tomatoes pulverized in a pestle and mortar. Som Tum has a blend of sweet, sour, and spicy flavor making it a nice appetizer for your Thai food experience. Usually in Thailand, a customer may request Som Tum to be suited to his tastes. Peanuts, brined crabs, or dry shrimp are also sometimes added for a distinctive flavor that always surprise many newcomers.
Thai Green Curry (Gaeng Keow Wan)
Green Curry (Gaeng Keow Wan), literally means sweet green curry is another popular Thai dish, which the name "green" curry derives from the color of the dish. Gaeng Keow Wan is consisted mainly with fresh chick, cherry-sized eggplants, tender bamboo shoots, handful of sweet basil, sugar, fish sauce, coconut milk, and green curry paste. The color of the dish is by adding spoons of green curry paste and stirs it continuously into hot creamy coconut milk. Gaeng Keow Wang is mostly served with rice, roti, or rice crackers.
Thai Desserts (Khanom Thai)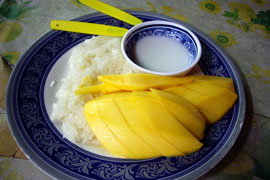 Thai Desserts (Khanom Thai) are well-known just like Thai dishes for their impressive colorful appealing and taste. Thai desserts have been favored by the Thais for centuries, and some even were mentioned in the valuable works of Thai literature. They are more than just something sweet to enjoy after meal, but also have been used in Buddhist rituals and ceremonies, as well as popular gifts for special occasions.
Most of the Thai desserts are mainly made from coconut cream, ...More Thai Desserts (Khanom Thai)
Bangkok Attractions
Chao Phraya River, also known as Maenam Chao Phraya and dubbed "Venice of ...
Located in Yawarat Area of Bangkok, Thailand, the Grand Palace (Phra Borom Maha ...
Located in Bangkok near Mo Chit Bus Station, Chatuchak (Jatujak) Weekend Market ...