Tainan Food
Night Market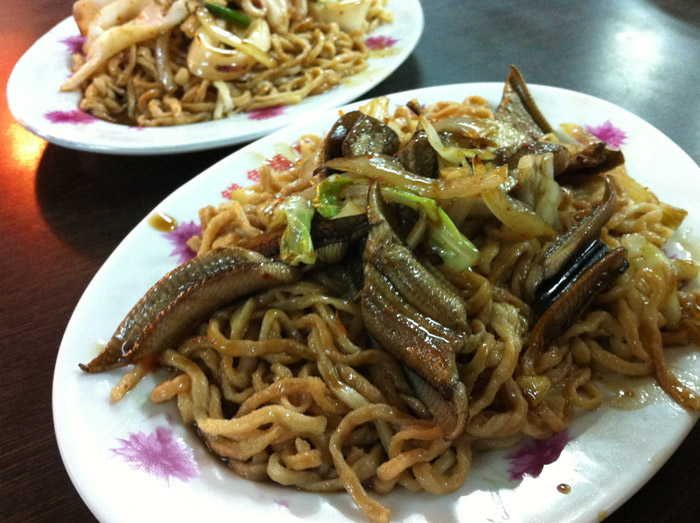 Eel Noodles
Eel Noodles is a typical local dish of Tainan. It is usually stir fried with high temperature to keep its freshness, and the noodles are tender and juicy. Eel Noodles are usually served in a sweet and sour Tainan flavor. Visitors may also find some stalls selling Eel Noodles in Taipei but taste a little different, in salty and spicy flavor. The Eel Noodles is a popular dish as eels contain high protein. It might not be appealing, but give it a try to experience the extraordinary taste of this typical Tainan delicacy.
(Photo by Mimi)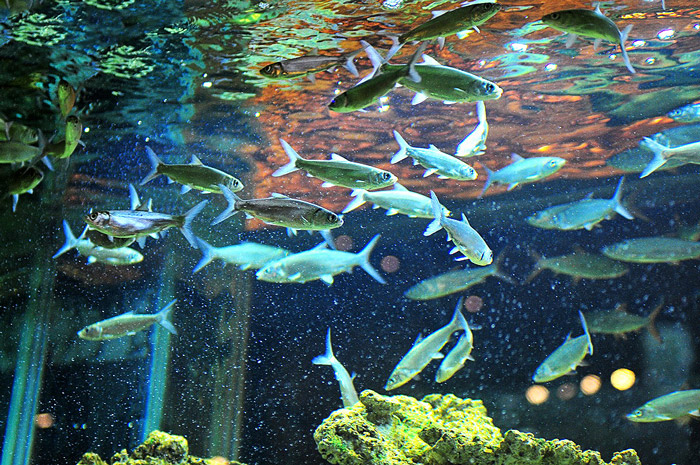 Milkfish Delicacies
Milkfish, also known as Sabafish is very popular in Tainan. The fish can be made into many different delicacies, including deep-fried milkfish, milkfish-broth seafood crispy noodles, milkfish congee, milkfish balls, milkfish soup, etc. Milkfish has a creamy taste, but one has to be very careful when eating as the fish has many small fish bones. Visitor may find many milkfish restaurants in Tainan providing fresh milkfish dishes, out of these restaurants, Ah-gong's seafood congee is one of the most popular one. Ah-hang's seafood congees is made with freshly shucked oysters and milkfish, and served with a fried bread stick. For the seafood congee here, milkfish bones are no longer a big problem since Ah-gong has developed his special technique of getting rid of fish bones.
(Photo by The Milkfish Palace)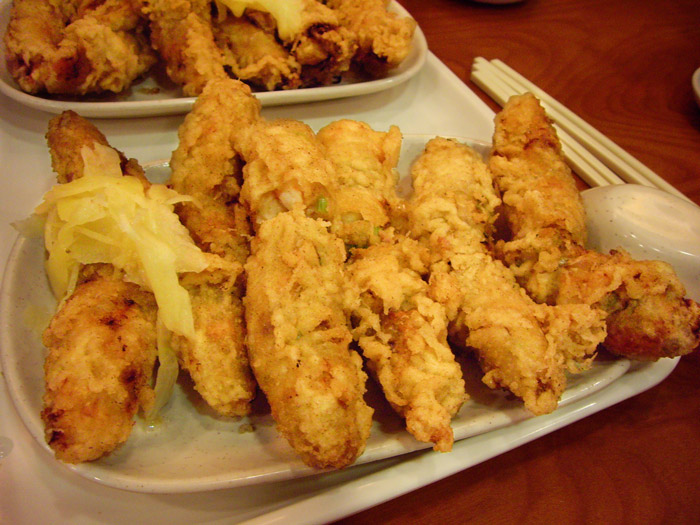 Shrimp Roll
Located in Anping District of Tainan City, Tainan Chou's Shrimp Roll always brings huge crowd on weekends. The founder of Chou's Shrimp Roll was once banquets cater in 1965, and shrimp roll was one of his specialties. Chou's Shrimp Roll was officially named in 1980 after he had created his own special recipe for the shrimp roll. Shrimps are wrapped with pig stomach membrane and deep fried. The three most popular dishes of Chou's Shrimp Roll are milkfish soup, fish thick soup, and shrimp roll.
(Photo by Eva)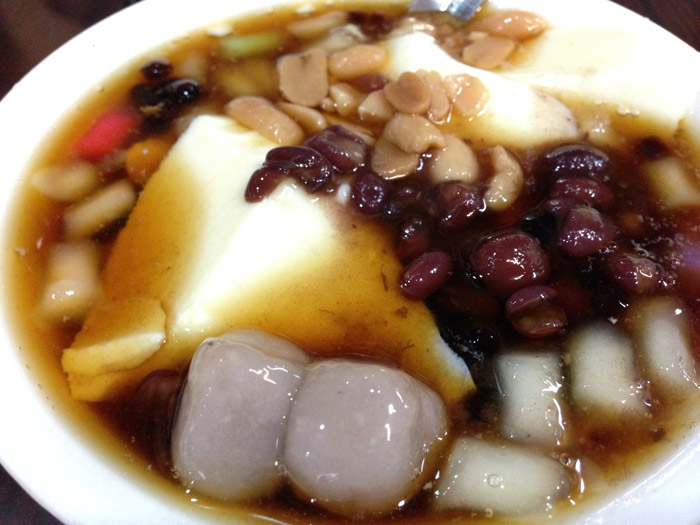 Tofu Pudding
Tainan is the birthplace of Tofu Pudding before it became popular in other Taiwan cities. When visiting Tainan, one should not miss tasting the famous Anping Tofu Pudding for its old-time flavor providing a smooth and pure taste. In the past, Tofu Pudding was kept in two heated wooden buckets carried by peddlers on the street. Tofu Pudding was served in a china bowl by adding brown sugar water, peanuts, or other toppings. Today, visitors are provided with many other choices of toppings include Job's tears, red beans, tapioca, taro, etc. Visitors may find a number of famous Tofu Pudding stores in Anping District such as Chou's Tofu Pudding, Mao's Anping Black Sweet Tofu, Shou An Peddler Tofu Pudding, and Tongji Anping Bean Jelly.
(Photo by Janice)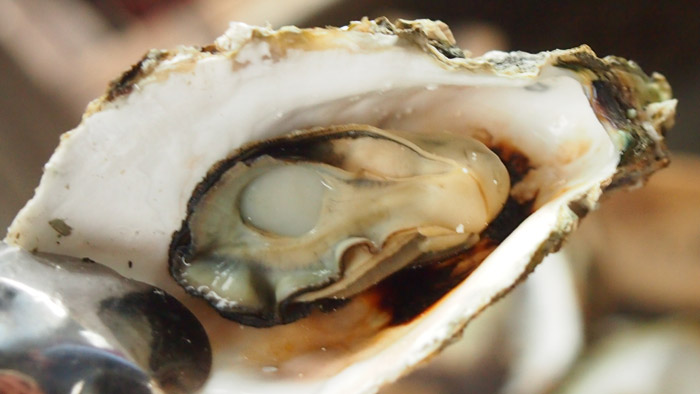 Tainan – The Land of Oysters
Oyster farming is the main economic sources of villagers in Longshan Village and Cigu Town of Tainan City, nearly 1/3 of the residents work in the oyster farming industry. The soil of Cigu lagoon has a high concentration of salt making it perfect for raising oysters and fish. Visitors may find houses in Longshan village and Cigu Town painted with eye-catching wall paintings telling the life of the people there. If you have a chance to visit Longshan Village, it should be fun to join a 90minute educational and ecological raft tour for an enjoyable experience seeing the mangrove conservation area, fixed fishnet area and oyster farms. Rich in fresh oyster resources, one may taste a wide selection of oyster dishes include fried oysters, oyster omelet, oyster roll, oyster thin noodle soup, as well as the well-known Chou's Oyster Roll in Tainan either on the street vendors or restaurants.
(Photo by Claire)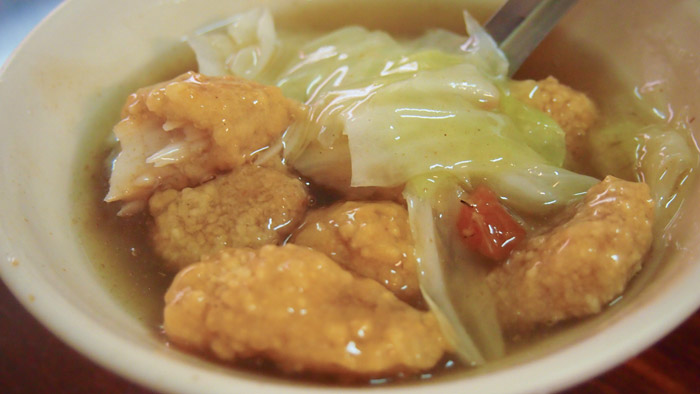 Fried-Spanish Mackerel Thick Soup.
There are many Fried Spanish-Mackerel Thick Soup stalls and restaurants in Tainan. The 3 most famous ones are Hao Wei, Zheng's, and A-Chuan. Hao-Wei Fried Spanish-Mackerel Thick Soup is the nearest one to the Tainan Railway Station, where travelers may access just in a short ride after getting off from the train or bus. Fried Spanish-Mackerel Thick Soup offers a special taste of fried fish in the traditional Taiwan thick soup that will make you linger on.
A-Chuan Fried Spanish-Mackerel Thick Soup
No. 109, Sec. 1 Hai-An Rd., Tainan City
Hao-Wei Fried Spanish-Mackerel Thick Soup
Address: No. 186, Sec. 3, Guohua St. Tainan City
Zheng's Fried Spanish-Mackerel Thick Soup
No.1-3, Ln. 16, Sec. 3, Guohua St., Tainan City
(Photo by Kate)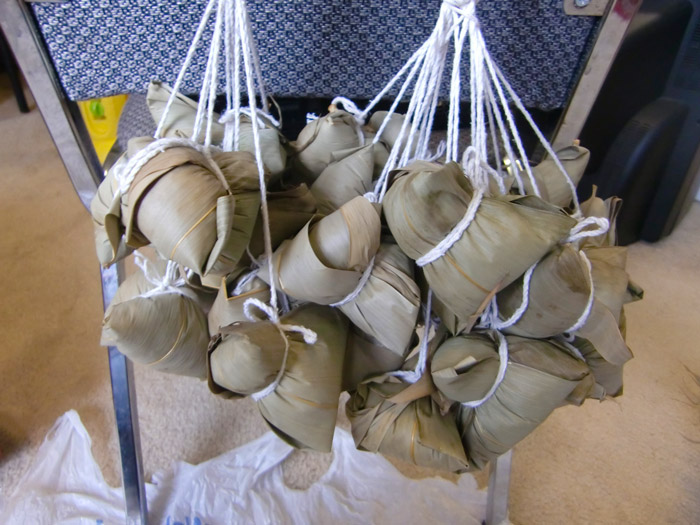 Tainan Rice Dumpling
Visitors may find rice dumplings over Taiwan during one's Taiwan travel. The difference between rice dumplings in north and south is the cooking method, which is steams in the north, and boils in the south. Traditional Tainan Rice Dumplings are filled with uncooked glutinous rice with stuffing such as a piece of cooked pork, yolk, peanuts, mushroom, then wrapped with bamboo leaves, and boil in water. This very simple yet traditional cooking method has kept Tainan Rice Dumpling famed for more than half of a century.
(Photo by Claire)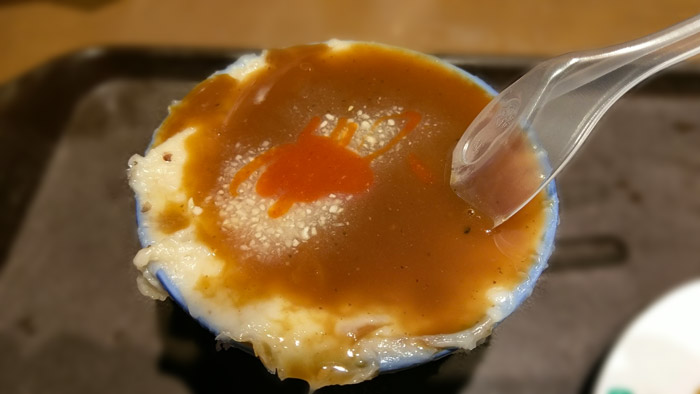 Salty Rice Pudding
Salty Rice Pudding is a traditional Tainan snack that is also known as Rice Cake for it is made with rice paste by adding a number of stuffing such as mushrooms, yolk, shrimp, meat and minced pork (rouzao), and steaming them in a bowl. It delivers a soft and dense taste that is mostly topped with soy sauce paste or creamy garlic sauce for a mix of different taste. Back in old days, bamboo stick used to be the utensil for serving Salty Rice Pudding as forks were expensive. Today, only a few places left, where Salty Rice Pudding are still served with bamboo sticks. Salty rice pudding is a breakfast dish in Tainan that are often sold in the morning until afternoon.
(Photo by Eva)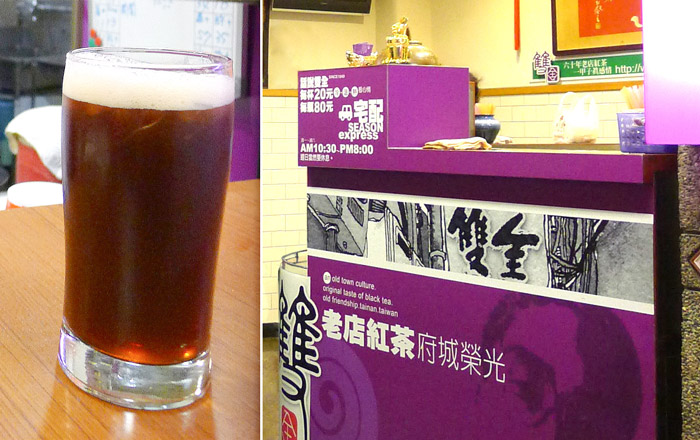 Traditional Black Tea & Wax Gourd Tea
Other than bubble milk tea, visitors may also find a number of local drinks such as wax gourd tea to relieve thirst from the hot weather of Tainan. Among Tainan wax gourd tea shops, Yi Feng Wax Gourd Tea is the most famous. Yi Feng Wax Gourd Tea can be found near Chihkan Tower. This famous Wax Gourd Tea shop was established in 1912 and now runs by the third generation from the family. There are 50 limited wax gourd drinks per day, where visitors may buy and make their own wax gourd tea at home. These limited brinks are usually sold out before 11:00, be early if you are planning to get one. Yi Feng Wax Gourd Tea earned its fame from its pure wax gourd tea that is handmade using traditional techniques. It's always nice to get a glass of cold wax gourd tea after a long day tour.
Another famous Tainan drink is the traditional Shuan Chuan Black Tea. Established since 1950s, Shuan Chuan Black Tea is hiding in a narrow lane that is just about a 5 minute ride from the Tainan Railway Station. This well-known black tea shop opens10:30 -20:00 Monday to Saturday and closed on Sunday.
Yi Feng Wax Gourd Tea(義豐冬瓜茶)
No. 212 Sec. 2 Yongfu Rd., Tainan City, Taiwan
Shuan Chuan Black Tea(雙全紅茶)
Address: No. 2, Ln. 131 Zhongzhen Rd., Tainan City
(Photo by Mimi)