Yilan Food
Night Market
Yilan Specials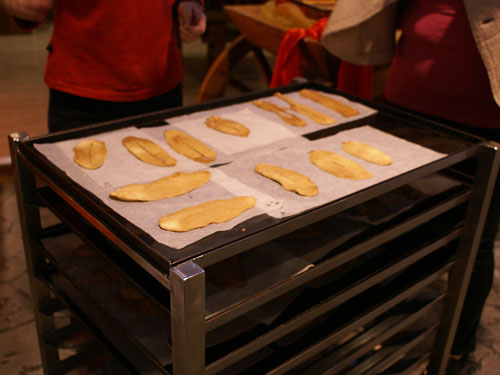 Yilan Cake (Ox tougue biscuits)
The Ox tongue biscuits is definitely the most representative delicacy of Yilan County. It gets the rather intriguing name from the tongue-like shape and has nothing to do with the animal. Back in the days, this thin, long pastry was used in a ritual conducted when a newborn was four months old. The cookie was hung by a string through a punched hole and worn by the infant like a necklace. Relatives and friends then used this "good-luck pendent" to wipe the infant's mouth as a way of blessing the child and hoping he or she will be gifted with intelligence. Surviving the test of time, this traditional baked good is now the pride of Yilan. Ox tongue biscuits, to which some modern touches have been added, are now the most popular snack among visitors to Yilan. Business and leisure travelers alike are keen to bring back this local delicacy as a souvenir for friends and relatives, or simply for themselves to enjoy at home. Ox tongue buscuits come in various of flavors for everyone to choose from, including honey, salty pepper, vegetarian, brown sugar, milk, kumquat, seaweed and peanut butter.
Scallion
The species of Yilan scallions have tender stem and long, thin white parts. Sansing Township home to this famous product, visitors may see farms of scallions along road sides of Sansing. In oriental countries, scallion is an important flavoring. The local government has programmed a cultural hall to introduce this product. Visitors may also learn about the growth of scallion and its nutrition facts. The hall offers information of nearby tourism spots as well. Delicious scallion dishes may also be found in restaurants around the area.
Gaujha
People said Gaujha is the dish represents the charactistics of Yilan people; cold on the outside but warm on the inside. It looks like pieces of fried tofu. Gaujha is a traditional Yilan dish, when the soup-stock gets cool like jelly, cut into cubes of bite size, then wrap with starch and fry. The most complicated part of making this dish is preparing for the stock; you need to make a great combination of pigs bones, chicken oil, chicken breast and some shrimps to bring out the flavor. The experienced chef knows how to keep it at a perfect moist ratio which helps the stock curded. Gaujha is also a common dish in the feasts or events for the locals, the crispy coating and chewy curd that have tender and smooth taste is only available in Yilan. Nowadays, seafood like scallops and prawns are adding in Gaujha for advanced texture. Make sure you don't miss out on this Yilan only snack for the ultimate Yilan travel!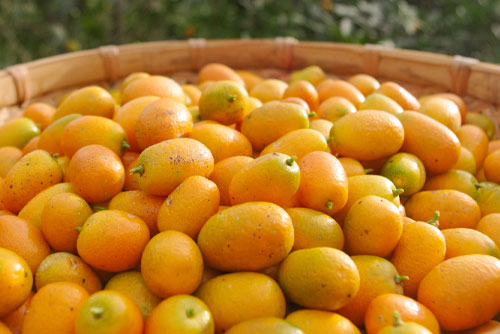 Kumquat
The harvest season of kumguat is from April to October. Traced back to the mountain area of Jiansi Province of China, Kumquat is originally named "Jingan" or "Jinju" or "Neonaigan" (milk orange). With oval leaves, a kumquat tree can reach up to 7 meters in height. The flowers of kumquat feature 5 white petals, which can produce juicy fruit. The fruit looks round or oval in golden and the size is as big as a thumb. It serves multi-functions for human health such as suppressing the cough, soothing the throat, and to have better skin. The skin of the fruit is sweet and has unique aroma. Kumquat is one of the 4 major treasures in Yilan, which is usually made as preserved fruit.