Yangmingshan Flower Festival
Time: January – May
Location: Yangmingshan National Park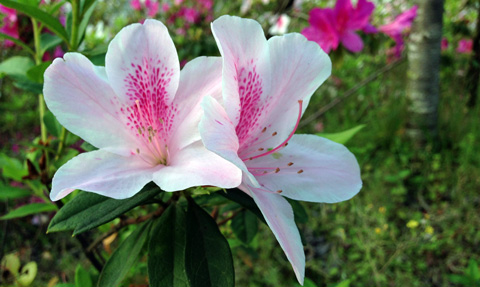 Ecological Environment of Yangmingshan National Park
Yangmingshan National Park, located in Beitou District of Taipei City, Taiwan, is renowned for its hot spring, and abundant plants and animals. With a subtropical and temperate climate, Yangmingshan National Park has recorded different species of 30 mammals, 21 amphibians, 22 fishes, 53 reptiles, 122 bird, 168 butterflies and countless insects and invertebrates, perfect for an ecotour. Aquatic, grassland and forest are three dominant plants in Yangmingshan National Park include Machilus, Acacia confuse, Japanese Cedar, Pinus luchuensis Mayr and Liquidambar formosana Hance.
Yangmingshan Flower Festival
As February through March is the time when most of the flowers of Yangmingshan National Park bloom, the mesmerizing sea of flowers bring together large numbers of visitors to the park. It's the flower blossoming season of sakura (cherry blossom), azalea, camellia, wild peony, peach blossoms and many more, covering Yangmingshan National Park with picturesque sceneries. A number of events and activities are scheduled every year along with the mesmerizing sceneries for visitors to see the charms of this Taiwan National Park.
Zhuzihu (Bamboo Lake) Calla Lily Festival
Yangmingshan Calla Lily Festival comes right after Yangmingshan Flower Season every year around end of March, covering Zhuzihu (Bamboo Lake) area in pristine white. This year, the month-long 2016 Yangmingshan Calla Lily Festival will be running from March 18th through April 17th. Although 2016 Yangmingshan Calla Lily Festival is scheduled to end on the 17th of April, some locations will remain open until May, the time when African lilies and hydrangeas begin to bloom, followed by sunflowers in summertime.

Yangmingshan Calla Lily Festival at Zhuzihu (Bamboo Lake) area is one of Taipei's major floral events. Located in Yangmingshan National Park, Zhuzihu (Bamboo Lake) has a high altitude with a rainy and damp weather that provides the ideal environment for the calla lilies. There are more than 45 calla lily farms in Zhuzihu area occupying an area of more than 13 hectares, where visitors may enjoy flower picking at some of the calla lily farms. The admission fee for entering calla lily farm is about TWD 100 per person, a bundle of 8-10 calla lilies are allowed to take home. Be prepared to get your feet muddy, as most of the flowers are out-of-reach and require adventuresome flower addicts to wander barefoot through the mud.

The elegant, trumpet-shaped calla lily, also known as the arum lily, originally came from Africa and famed for its distinctive thick green stem and hardy trumpet-shaped bloom. The calla lilies grown at Zhuzihu (Bamboo Lake) are mostly pristine white. These pure white color calla lilies are a favourite for wedding bouquets for their long-lasting, straight stems and elegant color.