Wulai Cherry Blossom Festival
Time: February-March
Location: Wulai, New Taipei City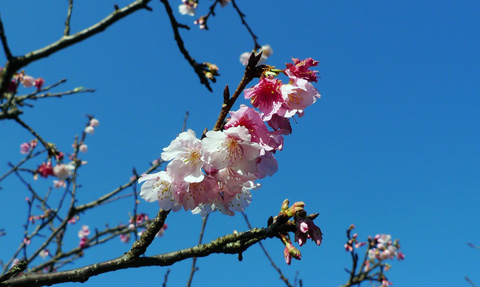 Wulai, located in New Taipei City, is about a 40 minute ride from central Taipei City. Wulai is famed for its rich natural resources, hot spring, aboriginal culture and mesmerizing cherry blossoms that can be seen around February-March every year.

Wulai Scenic Area is filled by many kinds of cherry blossoms, including Prunus yedoensis cv. Yedcensi, Prunus Iannesiana. Wils, Prunus taiwaniana Hayata, Prunus incise and many others covering Wulai Scenic with picturesque sceneries.

Wulai Hot Spring has a temperature about 80 degrees Celsius and are colorless and odorless, where one may experience a revitalizing hot spring experience at the Wulai hot spring hotels and resorts along the riverbanks or Wulai Old Street. Wulai Old Street is not only filled by hot spring resorts and hotels, but also an array of restaurants and stalls for aboriginal favourites and traditional dishes, including Bamboo Tube Stuffed with Rice, Baked Mochi, Brown Sugar Mochi, Deep Fried River Prawns and Fish, Honey-Glazed Yams, Magao Chicken (Baked Chicken with Black Pepper), Wild Boar Kebabs, Wild Boar Sausage, and fresh high mountain vegetables and ferns.

Other must-sees of Wulai include Wulai Atayal Museum, Wulai Log Cart, Wulai Waterfall and A GAGA Theatre. Wulai Atayal Museum is where one may have an idea of the cultures and histories of the Atayal, a number of Aytayal features include handcrafted artifacts, fabric weaves, weapons are displayed. The Wulai Log Cart is where visitors may experience an interesting ride on the Log Cart to the top of a nearby mountain, offering great views overlooking Wulai Waterfall. The 80-meter tall Wulai Waterfall is one of Taiwan's eight most beautiful attractions listed during the Japanese colonization. A GAGA Theatre is set close to the Log Cart Station for Atayal aboriginal performances and dances.