Shilin Residence Flower Show
Time: March-May (Rose)
Nov. – Dec. (Chrysanthemum)
Location: Chiang Kai-Shek Shilin Residence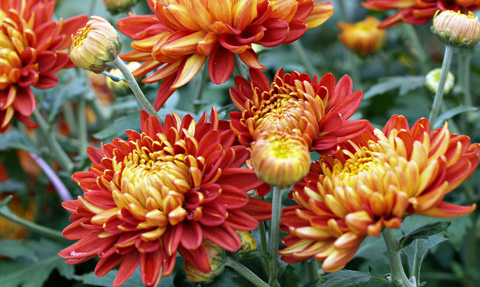 About Shilin Residence
Located in Shilin District of Taipei City, Taiwan, Chiang Kai-Shek Shilin Official Residence served as the last residence of the former President Chiang Kai-Shek and his wife Madam Chiang for over 25 years from 1950 through 1975 before his death on April 5th, 1975. Shilin Official Residence was off-limit to the public until 1996, and the two-storey grayish blue Main Mansion is now fully opened to the public from January 27th, 2012.

Occupying an area over 1,300 square meters, the Chiang Kai-Shek Shilin Residence is designed of 2 areas, including the main mansion and botanical gardens. Chiang Kai-Shek Shilin Residence was the venue where a number of important decisions were made, including the decision to hold Taiwan's first county-level election in 1950, and also the reception venue for many distinguished foreign guests include the U.S. Presidents; Dwight Eisenhower, Lyndon B. Johnson, and Richard Nixon, as well as the foreign heads of Korea and Vietnam.

The two-storey mansion is comprised of 2 sized living rooms, the reception hall and a recreation room on the ground floor where the presidential couple enjoyed their free time for movies. The master bedroom and Madam Chiang's drawing studio on the second floor house more than 5,000 original artifacts were off-limits to visitors until Janauary 27th, 2012. Today, visitors may make advance reservation online to see the precious collection and living area of Chiang Kai-Shek and Madam Chiang.

The Shilin Official Residence is not only an excellent site where histories are revealed for visitors to learn the real history of Taiwan, but also the perfect spot for horticulture as Shilin Residence has a number of gardens, including both Chinese and Western style. The inner garden features Chinese style garden, bridges, fountain, pavilion, bamboo, and hibiscus, while the outer garden is comprised of Western style architectures and gardens include XinLanTing – where birthday celebrations of Chiang Kai-Shek were held, Victoria Chapel – where the presidential couple go on Sundays and held wedding ceremonies of the first family, European and Rose gardens – a wide array of flowers and plants, as well as an outdoor square for music and recreations. With rich horticulture, Shilin Official Residence holds a number of flower shows each year such as chrysanthemum, orchid, plum blossom, and rose making it a popular spot among both local and international travelers.
Shilin Residence Rose Show
The Rose Show is the most representative floral show of Shilin Residence as rose is the most favored flower of Madam Chiang. The rose garden of Shilin Residence was first established in 1970 with an area of 3,315 square meters, and later expanded to 4,220 square meters. The European style rose garden has more than 5,000 roses of more than 200 kinds that blossom around March till May each year.

Rose show is held annually since 2006 as the rose garden is the most representative horticulture of the residence. A greenhouse is designed especially for the rose show. The theme of the rose show is "Rose Party", and designed with all kinds of rose decorations. The most noted rose species are Cape Cod, Livin Easy, Chi Dan Hong Xin, Souvenir de la Malmaison, and Molineux.
Shilin Residence Chrysanthemum Show
The Chrysanthemum Show at Shilin Residence was held from 1950s-1975 to celebrate Chiang Kai-Shek's birthday on October 31st. The show restored in fall, 2002, and is now the largest chrysanthemum show in Taiwan, held around November till December each year.