Hsinchu Mt. Shibajian Flower Season
Time: March
Location: Mt. Shibajian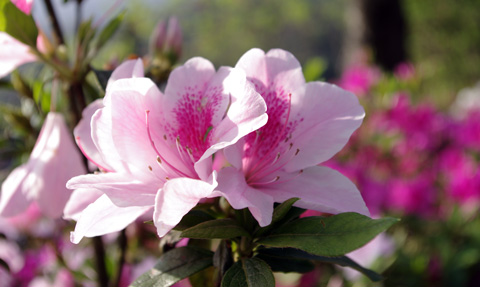 Located in Hsinchu City East District, Mt. Shibajian is the second forest park of Taiwan established during the Japanese colonial period after Taipei Yangmingshan National Park. Mt. Shibajian features a new moon shape with a winding road that goes for about 7-8 kilometers, offering great scenries of Hsinchu City from its northwest side and views of Taiwan Strait in the front at its peak about 126.9 meters near Jieshou Pavilion.

Mt. Shibajian Flower Season is held every year in March that attracts large numbers of both local and international travellers for flower blooming in many colors, and also to enjoy a relaxing time along the mountain trails. Other than seeing these beautiful flowers, visitors are also recommended to see other Hsinchu splendors such as Hsinchu East Gate, Hsinchu 17km Coastline Scenic Area, Hsinchu City God Temple, Neiwan Old Street and Sheipa Leisure Farm. In addition, Hsinchu snacks include Hakka cuisines, rice vermicelli, spring roll, cuttlefish thick soup, meat ball and fishball are mouth-watering local favourites that one do not want to miss for their Taiwan travel.

2012 Mt. Shibajian Flower Season (2012/03/01-2012/03/31) is covered by peonies along mountain trails in March and later with Yoshino cherry blossoms and Sweet Tea Olive for you to enjoy a romantic springtime in Hsinchu. Mt. Shibajian Flower Season is designed into different areas include peony zone, apricot blossom zone, sweet tea olive lane, peach flower zone, and creative flower zone. The creative flower zone will be decorated by creative ideas of 16 Taiwan organizations, transforming the area into picturesque sceneries.